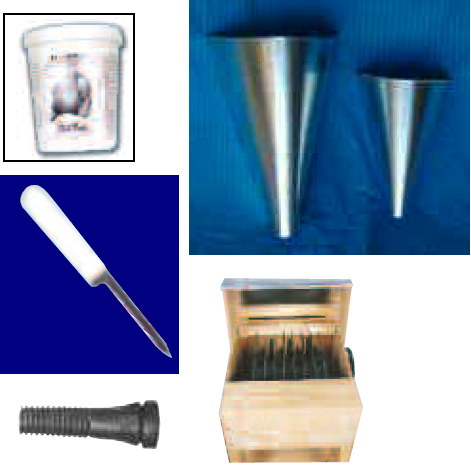 THE FEATHERMAN SCALDER
The goal: No pin feathers. Period.This only happens with a perfect scald. The Featherman Scalder holds a constant water temperature to help you achieve that perfect scald.Made of stainless steel with a 70,000 BTU propane burner, temperature control within a five degree range, and sized for four birds at a time (40 gallon), the Featherman Scalder delivers maximum performance at a minimum price. Drain valve, full protective rim, sidemounted chimney and cover tarp are all standard features.

One year complete warranty.
Scalder
PRO-S.....................................
$3284.40
KILLING CONES - Killing cones made from 26 gauge galvanized steel. A very practical item made in two sizes: for grown fowl, for turkeys. Prevents bruising of wings when birds are prepared for dressing.

(D-72) - For grown fowl, each .................................... $39.80
(D-73) - For turkeys, each ............................................ $67.70

POULTRY PLUCKER KIT - Make your own poultry plucker. We will supply you with the component part kit. Includes 7"diameter steel drum, 30 rubber fingers (2spares) shaft and bearings, 2 pulleys and V-belt. Build your own cabinet, drawings supplied.

(PP-K) - Each ..... ............................................................... $297.50
(PP-M) - Poultry plucker motor only, each............. $239.90
Buy motor with kit & price of the motor will be... $224.90

FARM DUTY 1/2 HORSE POWER USED MOTOR FOR PLUCKER $120.00

POULTRY KILLING KNIFE - Overall length 7-1/2", blade length 3-1/2", point is sharp on both sides

(KK-128) Each ............................................................. $39.10

LUNG REMOVER

Turkey................................................................................... $95.20
Chicken ................................................................................ $84.40

FEATHER-OFF - A special compound developed to aid in removing the feathers of chickens, fowl, ducks, geese, turkeys and game birds.

(F-12) 340g Each ......................................................... $7.40

POULTRY PLUCKING FINGERS - Plucking fingers -heavy duty rubber fingers make the best job possible.

(PPF-3) - 3" plucking finger, each ......................... $2.30
(PPF-5) - 5" plucking finger, each ......................... $2.30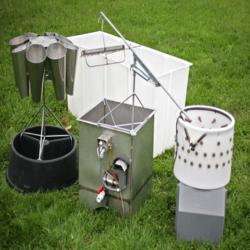 COMBINATION PRICE
plucker & scalder SAVE $50
THE FEATHERMAN PRO PLUCKER

Simply scald chickens, then drop 4 or 5 birds into the tub. In 20 seconds or less the birds will be picked clean. No pin feathers, no backache.
Capacity: 30- 50 pounds of birds, optimum 30 pounds
Tub diameter: 22 inches
Height: 33 inches
Footprint: 25 x 28 inches
Weight: 125 lbs.
Motor: 1 hp 115 Volts

Chicken Plucker.. (PRO-P).......................................... $3,374.00
Turkey Plucker... (PRO-T)............................................ $4,370.90
Dunker Shackels...(PRO-DS)..................................... $887.50

These units turn butchering day into a joy. Producing pin free smooth finish in seconds per bird.
These are exceptional tools for the serious enthusiast
Miscellaneous parts may be special ordered at your request
GST AND FREIGHT EXTRA - PRICES SUBJECT TO CHANGE WITHOUT NOTICE RESTOCKING FEE 25%